Our pleas for better communication and participation between Glen Williams residents, the Town of Halton Hills staff and elected representatives have been heard!
Public Information Centre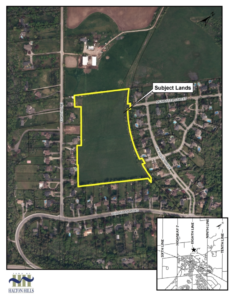 The Town has initiated a public engagement plan for Eden Oak's application to develop 32 lots in Glen Williams as part of the McMaster – Megan Application. They are holding a Public Information Centre on Wednesday January 17,2018 at 6:30 pm.
The town and the Eden Oak developer are working on applications for three significant housing developments in our community – one of which has already been given the green light. Just like the previous application, the Town is requiring Eden Oak to resubmit fresh materials that contain updated information.
A Chance to Hear Our Views and Suggestions
An open discussion next Wednesday evening will give the developer an opportunity to hear our views for a better proposal before he files his resubmission.
Please encourage your neighbours to turn out in good numbers! Let's show Eden Oak and the Town that Glen residents have many good ideas on how to best fit new developments in without compromising the unique character of the hamlet.
Meeting Details
The meeting is on Wednesday January 17,2018 at 6:30 pm in the Gordon Alcott Heritage Hall (upstairs room) in Mold Masters Sportplex (arena).
At this point we have been told the format will be as follows:
6:30 pm – Presentation by Town Planner Tony Boutassis on:
The status of this Eden Oak Application and
The OMB Process for this Application.
Followed by Small Group Table discussions led by Facilitator Glen Pothier.
More Information
For more information prior to this meeting please visit the following websites:
​Eden Oak (2147925 Ontario Inc.) Proposed 32 Lot Residential Development (Glen Williams)​
The Ontario Municipal Board FAQs
See you there!
---
Important Dates To Put On Your Calendar
Wednesday January 31st – Town staff are to post an Eden Oak McMaster Meagan Report on the Town Council Agenda website (which will include feedback from the January 17th public meeting).
Friday, February 2nd by 4:00 pm – Interested members of the public can register to speak to the Report at the February 5th Council Meeting
Thursday, March 1st at 10 am – OMB Pre-Hearing #2 for Eden Oak McMaster Meagan Application. This will take place in the Town of Halton Council Chambers on Maple Avenue in Georgetown.