Glen Williams Residents Carry On The Tradition of A Hamlet Hockey Rink…. that doubles as an Olympic Stadium!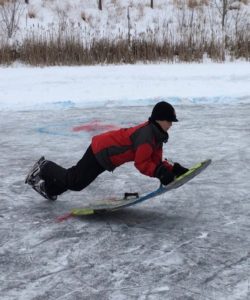 Hat's off to Sue Winser and her family for their brilliant idea to organize a mini-Winter Olympics right here in Glen Williams over the weekend. Many of us are feeling 'Olympic' these days as we cheer on our Canadian athletes in Korea this month.
Sue took her national pride outside and made a wonderful day for neighbours in the Glen (young and old) with an Olympic style winter games held on the community pond in Meadows in the Glen. Word is that it was a fun time for all. Complete with curling, bobsledding and hot chocolate!
When you're out walking the trails of the hamlet… check it out!